Unlike conventional medicine, FUNCTIONAL MEDICINE, treats the underlying causes of disease, not the symptoms of disease or the disease itself. Drugs and other medical procedures can only treat or "cover up" the symptoms of disease, and do not address the actual causes of disease. Functional Medicine doctors spend time with their patients, listening to their histories and looking at their genetic, environmental, and lifestyle factors which may have influenced their health. Functional Medicine is not a "one size fits all" program, it's treatments are uniquely tailored to each individual and it's specialized laboratory tests are able to scientifically pinpoint the exact cause of chronic illness and the care that's needed.
Dr. Duquette explains what makes Functional Medicine different and how it can help patients with Crohn's, IBS, Ulcerative Colitis, Celiac, Fibromyalgia, Migraines, Hashimoto's and other chronic complex diseases.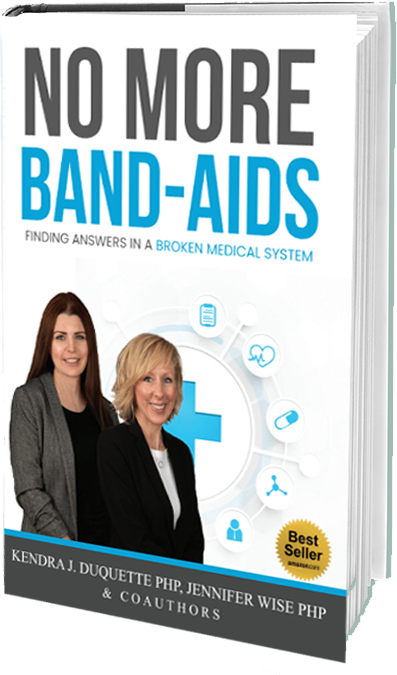 NO MORE BAND-AIDS!
A brand new Amazon best-selling book by Duquette Functional Medicine's own Kendra Duquette, PHP and Jenni Wise, PHP along with an all-star group of doctors and health practitioners.
These experts use their own experiences as doorways to bring about a new understanding of what it takes to thrive in today's toxic world as well as concise and detailed information on how they are working to fix our broken medical system.